Nov 18th and 19th 2017, WER 2017 world championship - the topmost event in global educational robot industry - vibrantly and vigorously opened up in Shanghai National Exhibition. About 10,000 contestants from over 30 countries and regions all over the world got together to perform an extremely extraordinary confrontation. Abilix, as the sole designated platform of WER in the global scope, provided full subsidies and support all through the event.
WER is an international educational robot competition initiated and organized by World Educational Robot Seminar, mainly catering to preteens and teenagers aged 4 - 18 in a world-wide range. It aims to cultivate youngster's technological literacy and team-work spirit, as well train their abilities to succeed, including abilities of analysis, creativity and practices.
Along with the expanding of WER impact, an increasing number of youngsters from different regions and countries participate in WER and winners of WER world championships have brought sublime accolades to themselves, their schools and their endeared countries. Furthermore, those who triumphed in WER have gained scholarships which have been rising annually and credentials for their entrance in noble universities. 500,000 candidates from over 50 countries and regions took part in selection contests at all levels in WER 2017.
Great Innovation - seeking different means to demonstrate AI charisma
In order to enrich the project design and practical space, as well as display children's imagination, creativity and programming ability in all-round way, apart from traditional brick educational robot contest, mobile, flying, module, humanoid and underwater robot contests sought different means to demonstrate AI charisma.
The firstly introduced virtual educational robot contest was exposed under the spotlight in this time competition. On one side, there was a real mobile educational robot contest while on the other side, a virtual mobile educational robot contest was also ongoing. All participants and visitors should have had a feeling of time-travel.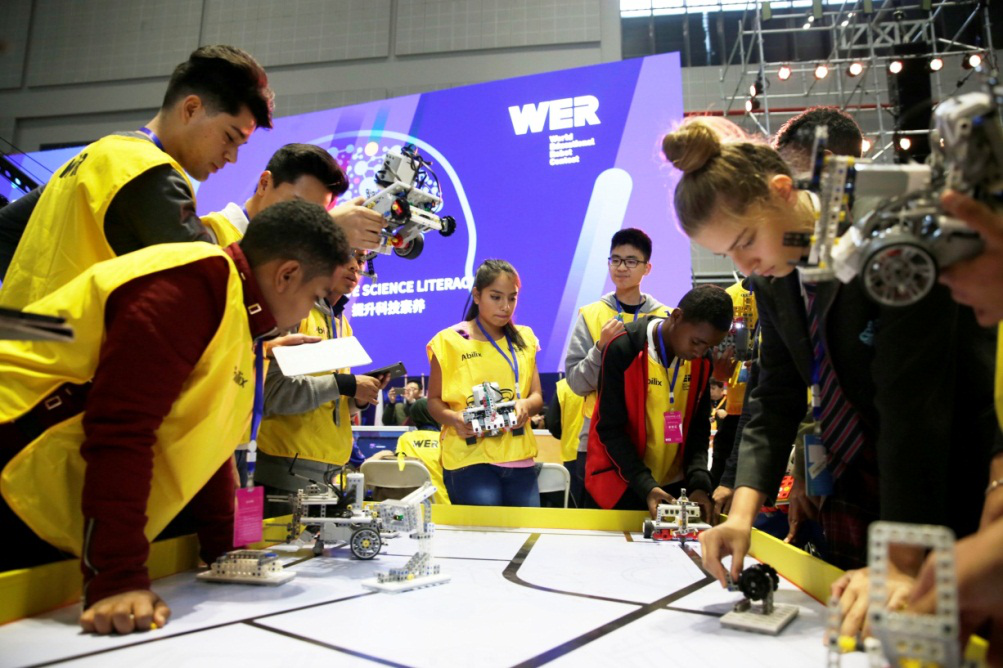 Those novel-typed and fun-embodied project settings won public esteem and broke the stereotype of regarding educational robot contest as a set of brick-building and programming.
The youngest contestant was merely 5 years old - refreshing the record of WER world championship
A group of little contestants were fairly eye-catching on the arena, among which the youngest one was merely 5 years old and some were kindergarten students. They came to take part in Mechanical Creativity Contest for young aged.
Those charmingly beloved children might be confused about the connotation of "competition", nevertheless, their earnest attitude in constructing railways and cooperating with their teammates made their parents fairly touched. Those parents who accompanied their children expressed thrillingly: Although children were still young and naive, it was a rare chance for them to take part in the universal competition like WER.
The original intent for organizing committee to specially arrange Mechanical Creativity Contest for young aged was to offer children more chances to experience fun of innovation and significance of team work.
It was acknowledged that children who participated in the contest ardently loved Abilix educational robots. Time flew, those children who shared similar faiths and ideals had experienced a lot in this arena and garnered a lot, such as glories, friendships, delights and self-fulfillment ... WER 2017 held its closing ceremony albeit all participants lingering on and reluctant to be apart. We looked forward to our meeting in next year!