October 13-16, Abilix showed up at the 2016 Hongkong Electronic Fair (Autumn Edition), where its new folks, brick robot-Krypton series, mobile robot-Oculus series, flying robot-sinus series, humanoid robot-everest series, which target at the household market, were unveiled and attracted visitors' eyes. During this fair, Abilix aroused wide attention among Medias from Japan, HK etc. and accepted their interviews. With the edge-cutting black technology, the brick robot-Krypton 7 was presented with "Electronic Industries Awards 2016".
Hongkong Electronics Fair is hailed as the weather vane and a good presenting platform for the global electronic products. The Electronic Industry Award" aims to promote outstanding electronics and help the electronic industry to improve the design and technology, besides that, it gives praise to the companies which are doing great in innovation and technology. The Krypton 7 will be exhibited with other award-winning products during the "2017 HK Electronics Fair (Spring Edition), Lifestyle Expo in Dubai 2016, Lifestyle Expo in India 2016".

Snapshots During the Fair
Sizzling spectacle draws attention
The four household series were well received by the visitors during the fair. Brick robot-krypton series, which can be attached from six sides, leaves enough space for users to create. The models built with Krypton are definitely a knockout. Oculus, as a knowledgeable robot, answers audience questions by easy stages. Everest won the applause with its appealing dance, subtle and quick movement. Sinus, who is the favorite of kids, becomes the center of attention with its fancy shape and highly difficult performance.

Visitors flocked to Abilix booth to consult about products.
With black technologies on hand, Abilix wins "Electronic Industries Awards 2016".
All the four household series have the breakthrough technologies. Sinus created the fully-enclosed protection technology, which can keep kids from hurting by the blades. Besides, it also possesses original technologies like 360° obstacle avoiding technology, damage-free after dropping, and 2 DOF camera etc. Everest, the humanoid robot, is equipped with 2 DOF hip joint and dexterous hands, which greatly exceeds other dancing robots in the market. When it comes to the Krypton 7, the brick robot, it features six-side attachable design, 26 times computing power over the Lego, 4 programming apps and revolutionary touch screen etc., which makes it stand out among others and was awarded "Electronic Industries Awards 2016".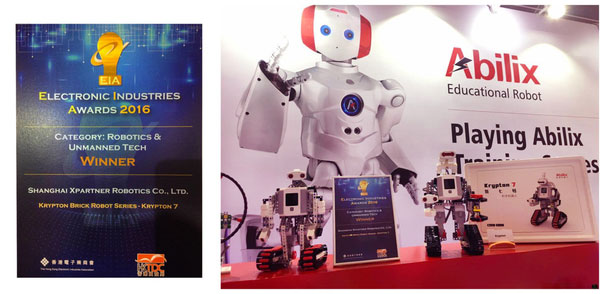 Krypton 7 won the ""Electronic Industries Awards 2016"
Rich Educational Values Involved; Sought After by Distributors
Product technology, of course, is the core of the educational robot, whose another core is its educational value. Only better technology can serve for the education. The ground-breaking improvement in the product and technology system presents the rich educational value in a profound manner. Though the robots that Abilix brought out are four series, they all come with rich educational values, which is why the four series are sought after by the distributors on spot.